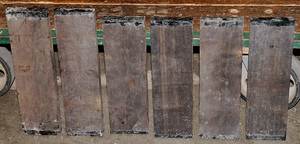 Diospyros perreiri
This Ebony is unsurpassed for its beauty and blackness. It is fairly fine-textured and takes a high polish. Rare.
Price below is per piece.
To add additional pieces to your cart, simply change the quantity field in the shopping cart to reflect how many you would like and press the "update cart" button.
Item Number: OS16
7/8-1 x 4-4 1/4 x 13 1/2-14 1/2"