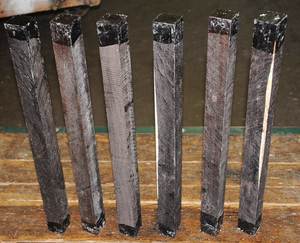 Dalbergia melanoxylon
The heartwood is purplish to brownish-black with dark gray streaks giving an overall impression of being black. Lustrous with an attractive inner chatoyance. Very hard, heavy, close-grained, and virtually free from pores. Slightly oily to the touch. The sapwood is straw colored to a bright yellow and can be as wide as 2". African Blackwood can weigh as much as 85 lbs per cubic foot. It is used for marquetry, inlays, knife handles, game calls, pistol grips, pool cue butts, chess pieces, jewelry, and other precious arts and crafts. But its main use is in turning, and it claims the title of the finest of turnery woods, well known as the standard by which other turnery woods are judged. Long a favorite of ornamental turners, the nature of the wood allows very fine detail with sharp cutters, leaving a beautiful, burnished surface. Its stability, oily nature, resistance to moisture, and lovely finishing qualities make it superior to other timbers. These are best quality squares. Rare.
Due to CITES regulations, we can only ship this species to customers in the United States.
Item Number: OS52
Coronavirus Update on 3/24
We're still operating and shipping orders every day. However, we are now closed to walk-in retail business at our warehouse in Portland OR. If you want to pick up an order in person, just give us a call. Thank you for your business in this tough time.