AFRICAN BLACKWOOD
(Dalbergia melanoxylon)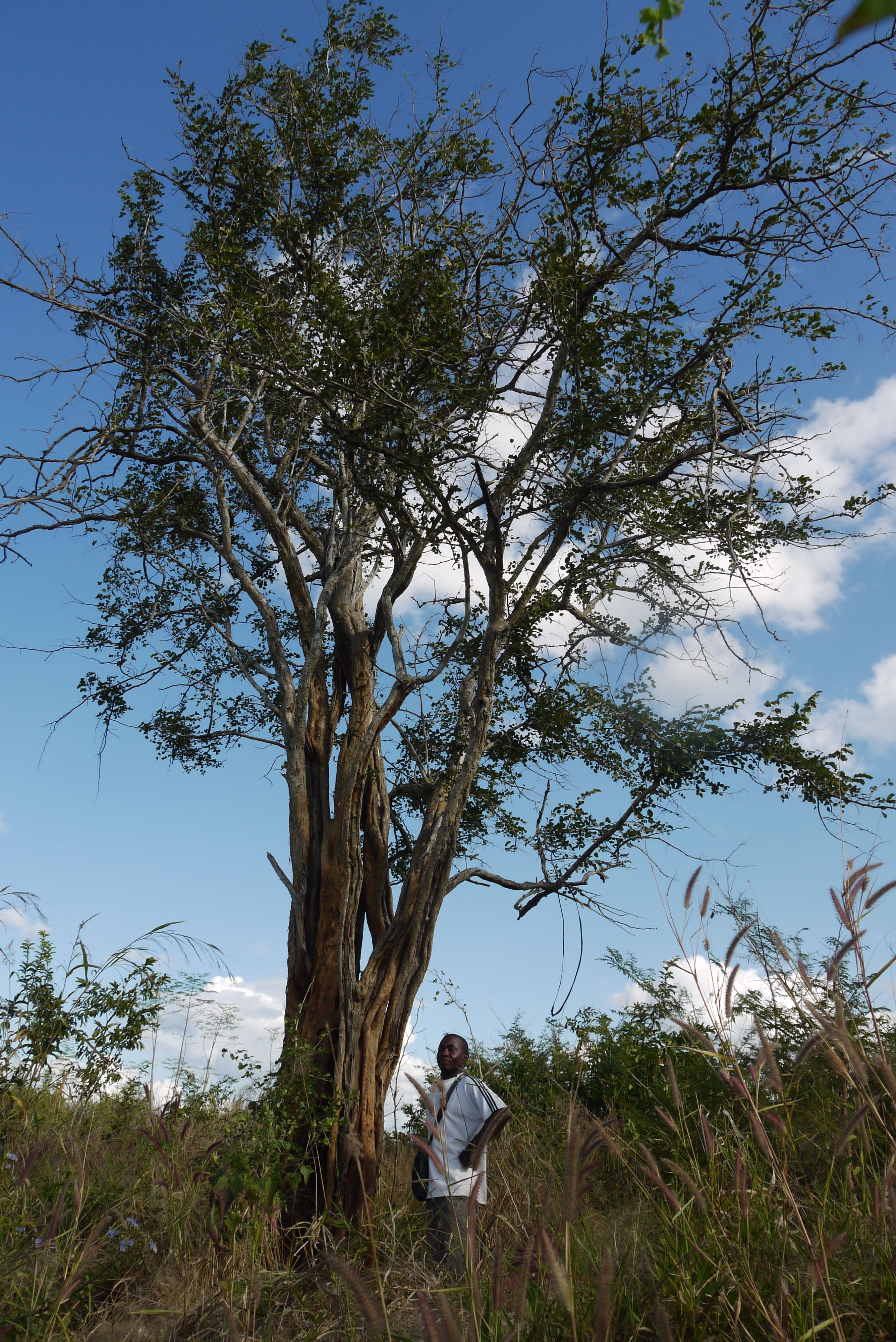 Mpingo Tree
Also called Mpingo or Grenadillo, and often erroneously called African Ebony, this generally small and stunted-growth tree is found in many parts of Africa south of the Sahara. African Blackwood is prized for its density and fine grain as well as its melodious tone, making it a natural for turning and musical instruments.
Most Blackwood that reaches the markets of Europe and America comes from Tanzania south to Mozambique. It is found growing mostly in dry woodlands or savannahs. Trees are inherently of poor form, heavily branched, sometimes with heart voids which end up as homes to other plants, insects, small mammals, and reptiles. Blackwood trees are generally harvested when they reach 70-80 years old but they do not reach their full growth until they are about 200 years old.
African Blackwood's heartwood is purplish to brownish-black giving an overall impression of being black. It is lustrous with an attractive inner chatoyance. The sapwood is straw colored to a bright yellow and can be as wide as two inches. African Blackwood is very hard and heavy, weighing as much as 85 lbs per cubic foot. The wood is oily, which, along with its density, contributes to its being one of the worlds best turnery woods. Because the wood is free from certain chemical compounds that can cause rust, it's easy on tools. Because of that, African Blackwood was historically used for the handles of surgical instruments. There is not much written evidence of the wood's use before 1850, but we know it was imported from German, French, and British colonies for use in furniture inlays and turnery.
Our African Blackwood originates from Mozambique and is processed in a Forest Stewardship Council certified mill. The remote growing regions present an obstacle in getting this precious wood and the trees often have to be transported great distances to reach the mill. Once the trees have arrived at the mill, they are debarked by hand and the larger logs are split. The split logs and smaller diameter logs are then run through band saws to cut them into cants. The African Blackwood trees themselves are rather scraggly and often contain large voids, heart rot, bug holes, soil, and other foreign matter. This makes them poor candidates for large lumber, but a good option for small blanks. From the African Blackwood cants, the mill cuts mostly woodwind blanks that range in size from 1x1" to 4x4". The rough squares and cants are graded, where defects like cracks, knots, and irregular grain are sorted out. Then the clear squares and cants are waxed and they sit for a couple weeks for the surface moisture to dry out before being packed and shipped.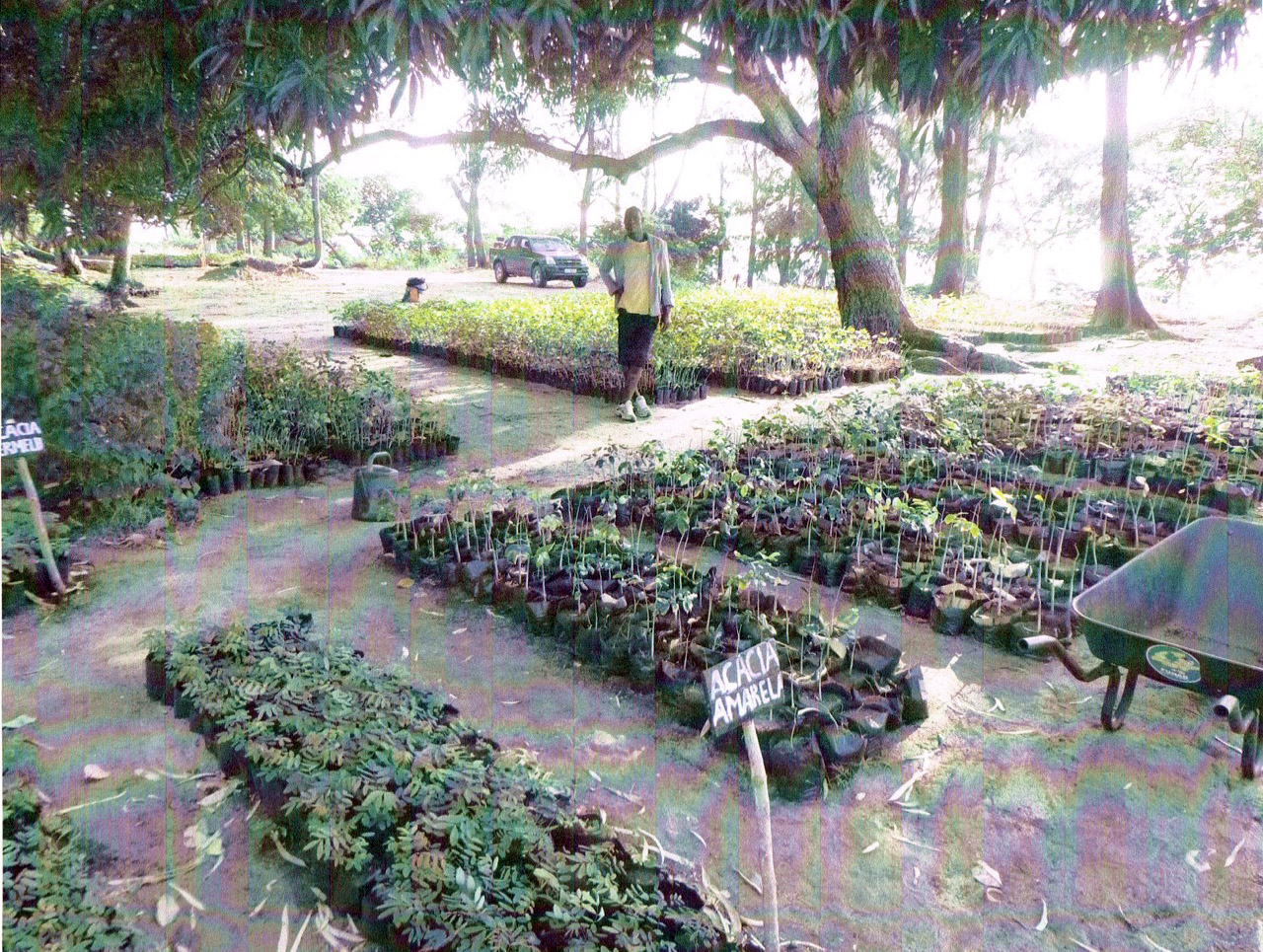 African Blackwood Seedling Nursery
Our mill partner has a number of social responsibility projects to support the local workers and environment. They dug a well and installed a water pump for the local community so workers and their families have access to clean, free water. At the mill, they provide lunch for workers and the mill safety program addresses the hazards of mill work, requiring workers to employ personal protective equipment such as dust masks and ear protection. There is also a medical facility in case workers or their families get ill.
As Mpingo, the Swahili name for African Blackwood, is the national tree of Tanzania, it holds a special place in the hearts of east Africans. However, the tree is so slow growing that there is little economic incentive for farmers to replant. Organizations such as the African Blackwood Conservation Project work with locals to replant Mpingo trees as well as other native trees. The project aims to improve biodiversity conservation, reforestation, and economic security for people who live in Mpingo growing regions. Furthermore, our mill in Mozambique has a very aggressive replanting program, from raising seedlings to planting them in the wild and then nurturing them until they can thrive on their own. For every mature tree that is harvested, hundreds of seedlings are planted.
Usage
The uses for African Blackwood are many and varied. The appearance of African Blackwood is finer grained than ebony and it has a very notable melodious tone. This, along with its dimensional stability makes it an excellent wood for woodwind instruments. In addition to woodwinds, it is also esteemed for guitars, ukuleles, mandolins, etc. It is the favorite wood of ornamental turners taking intricate detailing with clean and crisp edges. Some of African Blackwood's end uses are musical instruments (oboe, clarinet, bagpipes, piccolo, guitar, ukulele, mandolin, clave, etc), ornamental turnery, knife handles, pistol grips, wine stoppers, pens, inlays, bowls, pool cues, and sculptures.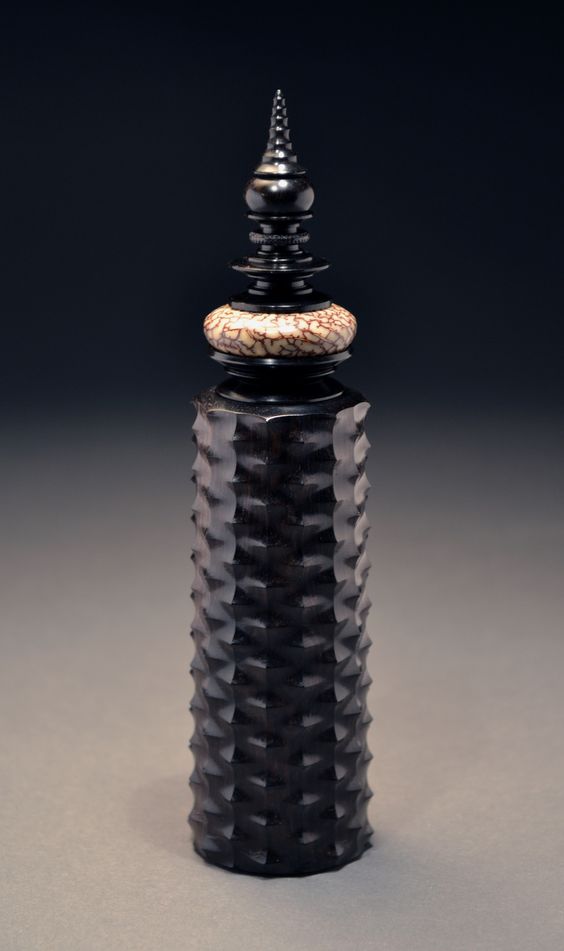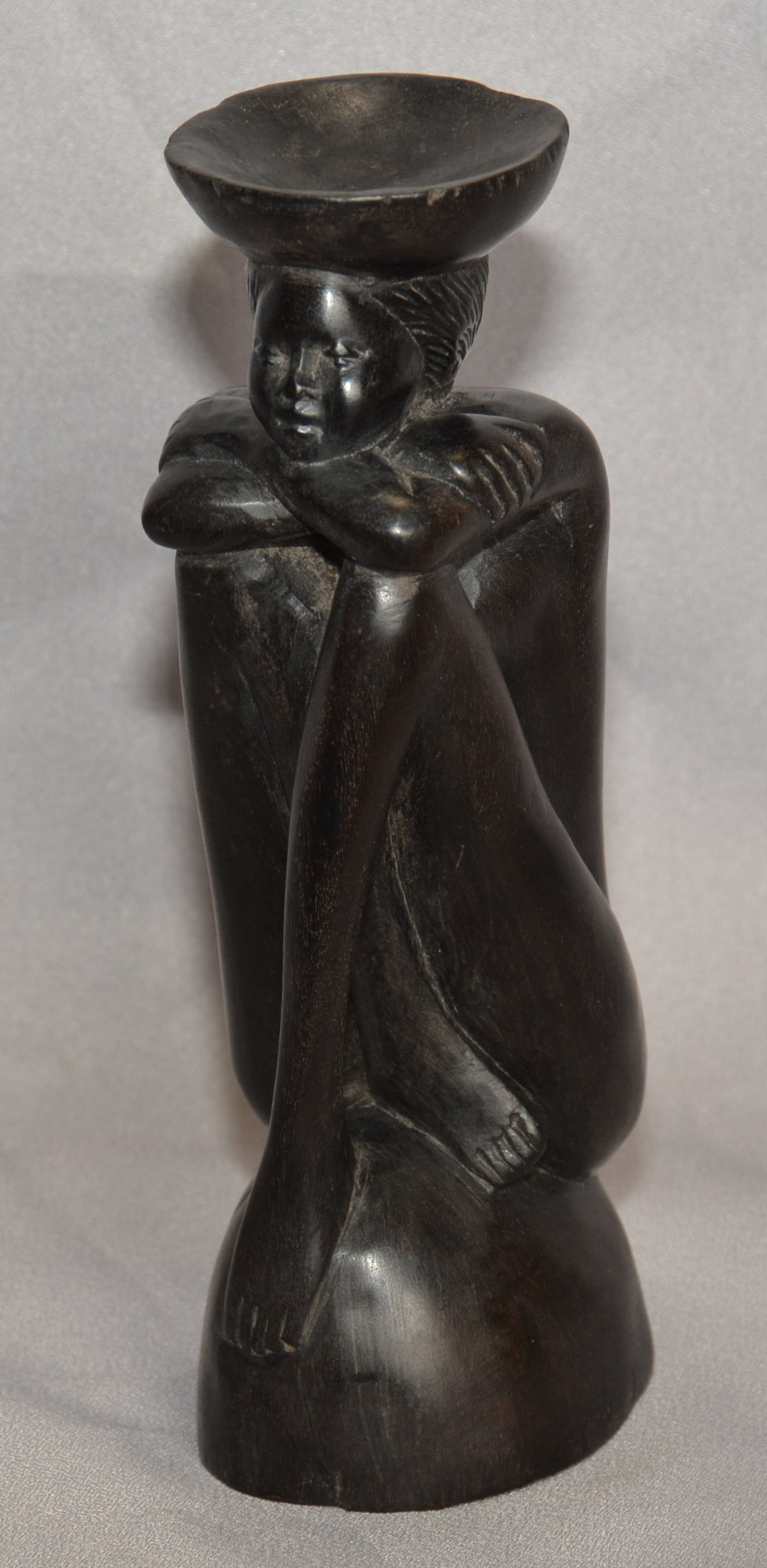 African Blackwood statue by an unknown artisan
Occasionally we run across logs or boards or squares that have the rarest of figures found in African Blackwood – bird's-eye. These one-of-a-kind, beautiful pieces are usually set aside for custom knife makers, pool cue makers, or artisans making revolver or automatic pistol handles. Call us to check on availability. Almost as equally rare are logs covered in cluster burls (see our burly logs we have for sale).
People frequently ask why African Blackwood is so expensive. Consider that it is a terrifically difficult journey from log harvest to the time it lands in our warehouses and then factor in the fact that one is lucky to get a 20% yield by weight from the log and much, much less so when cutting stringed instrument sets or the large blanks for clarinet bells and the high costs begin to make more sense.
We have a huge inventory of African Blackwood, tons of logs, log-run lumber, thousands and thousands of different sized squares from pen blanks to 4 x 4's, cants, guitar, mandolin, and ukulele sets, fingerboards and bridge blanks, clarinet and bagpipe sets, knife handle blanks, and we offer milling services for custom sized blanks.

African Blackwood burly log